For Supposed Crimes 30-day Challenge Day 23: What is one subject you would really like to tackle in a story or see an author take on?
It doesn't specifically have anything to do with romance, but I'm wondering how the pandemic (social distancing, masks, working from home, etc) will be represented by authors.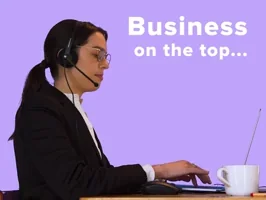 Even prior to the pandemic, society was already seeing an increase in remote employment and multi-gig workers.
In terms of romance, it seems the "office romance" tropes definitely will change in the "work from home" era, and of course gig workers have very differently structured time. I'm curious to see how a romance might be built starting from those dynamics.
I've read a few LDR (long distance romances) start as internet dating, a la "You've Got Mail" (classic) and "Late Night Coffee" (a more recent F/F romance book). But what about romances in the workplace can change with Zoom meetings? Or when people are meeting face-to-face on the one day a week "see you in the office for your 'work handoff' or 'required' day"?
Will authors create a new epistolary narrative format with transcripts of Zoom and Facetime chats interspersed with emails and text messages?
Lots of questions, not a lot of answers.
~ Lara