I often visit this page for a list of holidays and observances to brainstorm ideas to write about. There are the observances and holidays you'd expect. Then there's "capture the sunset week" and other unusual recognitions. I have used these as inspiration to drop details into stories, or spark complete plots. July has several such observances I've used in stories. Click the links to read the scenes or stories where each element was incorporated.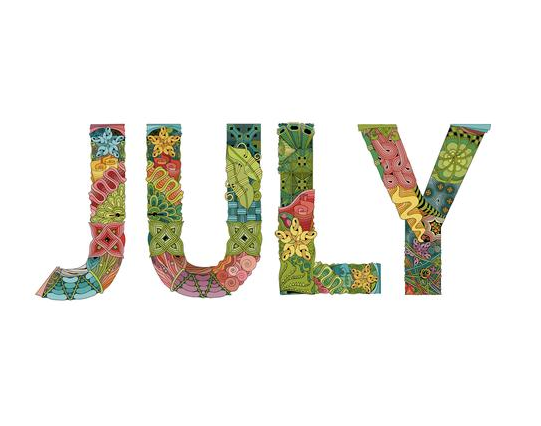 International Kissing Day (July 6) – too many to list, but I've included below the first kiss from a Patreon story "A New Life". In the full story, Italian sculptress Claret Annatto discovers the dramatic power to be found in a tender, loving kiss.
This masterpiece, Claret felt certain, would be heralded as her finest work. The income from her sale would kept Claret in shelter and food for a year, perhaps more. This one was a goddess, reflecting the spirit of a true maid, mayhap headstrong, but forgiven all in the face of such beauty. The turn of her one foot ahead of the other, knee barely bent, suggested that, if called, she might alight from the step and move into your arms.
Claret's gaze remained helplessly compelled on the musculature of the knees. Was that a knife scar? She flung aside her blanket and reached for the clay linen before kneeling at the statue's feet and stroking gently to remove the blemish. Finally sitting back on her heels, Claret was supplicant to her goddess, gaze drifting up the taut thighs, to the cradle of womanhood and the soft curves of a belly the perfect span of two hands. She kissed the inner swell of hip with a smile. "There, my darling," she breathed.
If you'd like to read the rest of "A New Life," subscribe to my Patreon and look through the old posts for April 2021.
Have a happy July!